Dean Cameron
January 19, 2002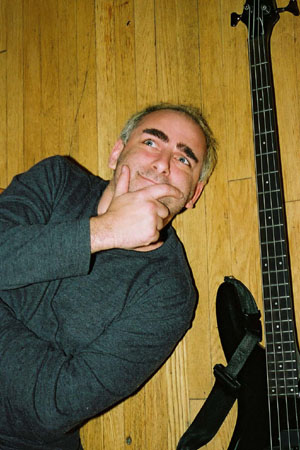 Dean Cameron is best known for a number of campy comedies that featured him in the early 90's. While he's still acting, and doing voice-over work for commercials, he also plays bass in a band.

Dean was the first person I asked to sit for portraits. After doing concert photos for a few years, I wanted to branch out to musicians and their instruments outside of the club setting. Because he's also an actor, I figured I could get some good expression out of him as well.

A number of things went wrong with this first attempt... I forgot the sync cable for my extra lights; I wanted to shoot more controlled, using a tripod, but gave up on that after about 3 or 4 shots; I wanted to use my longer lens, because I'd read that it makes portraits more flattering, but due to the size of the room, and the placement of the couch, I ended up switching to my shorter lens after the first handful of shots as well. Still, I'm pretty happy with a few of the pictures.
- see more of the Dean Cameron shoot -
(25 pictures)